Bindery and Finishing Services - In House, on Time and on Budget.
Our bindery department has the state-of-the-art equipment to handle any projects including saddle stitching, perfect binding, mechanical binding and tab cutting. Keeping bindery in-house ensures highest quality, on-time delivery and significant cost savings.

Choosing the right bindery and finishing options can be as important as the content of your project. Here are some of the most popular methods to assure your project will have a complete and professional look.

Perfect Binding - a flexible adhesive attaches a paper cover to the spine. Similar to soft cover book binding.
Saddle stitching - wire stapling is inserted at the center of your project.
Collating - we verify and assemble the printed sheets in the proper order for binding.
Aqueous coating - a water-based varnish that's applied to the entire sheet. It adds gloss and makes the paper more durable and less prone to fingerprinting and smudging.
UV coating - a liquid laminate is bonded and cured with ultraviolet light.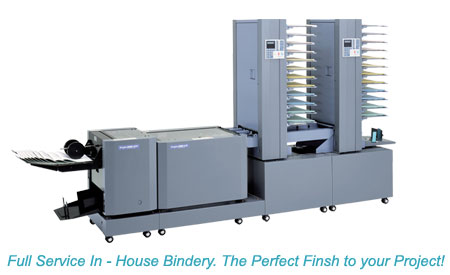 "Serving the Greater Seattle Area with unparalleled print quality and customer service since 1980"




Brim Press • 446 SW 153rd St. • Seattle | WA • 98166 • tel. (206) 433-8811 • fax. (206) 433-1055